Beautiful, stable, effective and above individual: create your own Hula Hoop!
With this HDPE 20 mm plastic tube as a basis for your new Hula Hoop, you purchase a quality product that convinces despite the low price with an extreme robustness and flexible options for use. With a few simple steps, you can create with this red HDPE 20 mm tube a functional Hula Hoop thanks to our also available accessory like tapes or connectors. Size and style are completely in your hands. Please note that this HDPE 20 mm tube can be ordered only by the meter. Other tube colors and thicknesses are as well available!
How to make a Hula Hoop: With this HDPE tube it will be very easy
high quality product made in Germany
stable tube with excellent flexibility (perfect Hooping basis)
you may also discover our further Hula Hoop accessories
very reasonable price (valid per meter)
please note: this product is sold by the meter
Your formula for a highly individual Hula Hoop
Please refer to the following table to order the appropriate length of the HDPE 20 mm tube with a view to your needs. Or use to the following formula: desired diameter * 3.14 = necessary tube length. After the timely delivery, you can start to create your Hula Hoop project. With our attractive accessory, many possibilities can be realized.
Required plastic tube length for your desired diameter: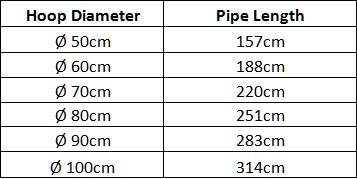 Formula calculation for the length: desired diameter x 3.14 = required pipe length
Color:
red
Tube diameter:
20mm
Material:
HDPE
Material thickness:
2 mm
Manufactured:
in Germany
We deliver the total quantity of your order in one piece. So order 10 meters, you get a piece with 10 meters.
We would like to point out that this Hoop is a not prefabricated product that is tailored individually according to your order. Therefore, a return of this product is unfortunately not possible.
---
Shipping weight:

0,13 kg

Item weight:

0,12 kg