Create a highly individual Hula Hoop with this blue HDPE tube
Your new Hula Hoop will be slim and comfortable to wear; the holistic fitness training with your new self-made Hula Hoop will be noticeably good for your whole body. Purchase with this blue tube made of polyethylene a peppy and stable base which allows you to create an effective Hula Hoop according to your wishes.
A nice piece for your desired Hula Hoop: blue HDPE tube with 16 mm thickness
HDPE tube: a peppy basis for Circus Hoops, children Hoops
price valid per 1m
Minimum order quantity and quantity limit: 1 whole meter
HDPE is an extremely robust material with an increased density? highly resilient and flexible tube
high quality ensured by the predicate made in Germany
resistant to external influences (such as UV rays, for example)
We offer you an attractive variety of colors, tube sizes and materials and also grip tapes to wrap your Hula Hoop blank. At least 1 meter must be ordered. Please notice that you can only order 1m as accepted interval.

Required plastic pipe length for desired hoop diameter: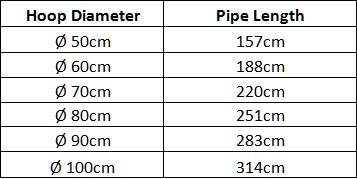 Formula for the pipe length: Wish diameter x 3.14 = required length of pipe
Color variants:
blue, pink, white, yellow, orange, red or green
Tube diameter:
16mm
Material:
HDPE
Material thickness:
2 mm
Manufactured in Germany
We deliver the total quantity of your order in one piece. So order 10 meters, you get a piece with 10 meters.
We would like to point out that this Hoop is a not prefabricated product that is tailored individually according to your order. Therefore, a return of this product is unfortunately not possible.
---
Shipping weight:

0,10 kg

Item weight:

0,09 kg

Content:

1,00 m