Hoopomania: Read here more about the trendy Hoop Dance workout
The newest and most efficient generation of working out: Hooping is "hip" today!

Hula Hooping with modern tires allows an efficient cardio training that promotes coordination, the cardiovascular system and that helps to strengthen problem areas (such as the abdomen, buttocks and legs). The specific movements accelerate the fat burning process efficiently. Hula Hooping around the hip does not only mean fun, with regular workouts you can come closer to your dream figure. The sporting (combination) options are varied, discover them now for yourself! Whether for Pilates, Modern Dance or Yoga, your new Hula Hoop will be a modern and versatile fitness device.

Fitness 2.0: Keep yourself fit with regular Hoop Dance workouts
Hoop Dance refers to a free dance, appropriate fitness tires are heavier and larger than the well-known children's toys (the diameter of sporting Hula Hoops is between 90 and 110 cm). Characteristic of this sport are specific rhythmic movements, and not just around the waist. Also around the feet, knees and the shoulder the Hula Hoop may circle dynamically with a little practice, so training with it never needs to be boring. Hooping allows a new body feeling and a desirable freedom because these peppy tires can be used at home, on the road, on vacation or in gyms. This sporty type of dancing could conquer in recent years more and more hips in Germany.
---
Which Hula Hoop is suitable for me?
You lay the foundations for a successful learning of the technique with an appropriate Hula Hoop as they differ considerably in size and weight!
The right size is crucial: Stick to the rule of thumb that the tire should reach from the ground up to the hip or the navel. For beginners, in particular, a large and heavier Hula Hoop is more suitable (e.g. a diameter of 1 meter, minimum weight 650 grams).
People who want to do Dance Hooping or choreographies tend to buy easier hula hoops.
Adults should fundamentally choose rather larger Hula Hoop with a diameter of at least 1 meter.
Experienced Hoopers know how to handle small and light tires as these are more difficult to move. Modern Hula Hoops have nothing to do with children's toys. Those who are wishing to practice an effective fitness training may therefore not use a Hula Hoop from the toy department.
---
Handles and tips: Hula Hoop expertise
>
The right tire has been found? Great, for training it is recommended to wear close-fitting sportswear.
Please make sure that there is enough space around you.
Hooping with rhythm: With your favorite music in the background, the dynamic workout just makes even more fun.
Swinging the hips can be learned! Read more about it...
Please read the following instructions carefully before you start with the training: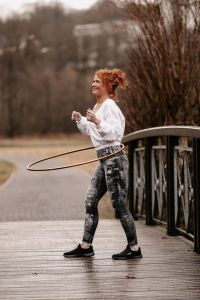 Set one foot in a normal posture forward, place your Hula Hoop around your waist and hold it with both hands so that it rests in the amount of the sacrum at the back. The tire should be parallel to the ground and thus kept in a straight position.
Now you give impetus to the tire with both hands and at the same time, you swing immediately the hip back and forth. Move as well the belly back and forth, so that the fitness tire can move. The weight should be alternately displaced to the front and to the rear. It is important to know that you DO NOT perform circular hip movements, you only have to move it back and forth.
Find your preferred direction! You should find out yourself whether it works better for you on the left or on the right. Make it the way you feel best.
After a certain time, you should move your hips to the rhythm of the Hula Hoop. If the Hula Hoop slips off a little bit, you can bend your knees slightly in order to keep the tire in a higher position.
You might try out these things for more fun and safety:
Vary the speed of Hooping by shifting your weight quickly backward or forward. The same thing applies equally to the abdomen or waist, try it out!
Do you already manage to circle the Hula Hoop for a longer time? Great, then you should rotate in the same direction as the Hula Hoop to enjoy more variation.
And one more possibility of variation: Let the Hula Hoop circle around your buttom, therefore you should reduce the speed. To succeed, your focus should be a little deeper. Try it out, after a certain time you will develop a good feeling for this.
Before you start: It's all a matter of the right attitude!
Failed attempts should cause no frustration because a master is not yet fallen from the sky! Take it easy, with fun and relaxation it works best and this is the only way Hula Hooping will be real fun! So just stick to these advices and soon the tire will almost circle without any efforts around your hips...
---
Self-made Hula Hoop: Take the design of your tire into your own hands
With us, you may find flexible ways to realize creative solutions with regard to the Hula Hoop Dance workout. Do you already have several Hula Hoops at home and want to create your own model? Here, in this specialist shop, you will find all options for this. Order high quality blanks in various sizes and weight classes and necessary grip tape and other accessories, and soon you will able to hold a highly individual Hula Hoop in your hands.

Here the motto could be as well there is nothing like doing a Hula Hoop yourself!
We offer you in this shop the unique opportunity to order next to an attractive range of models all necessary accessories conveniently to create a Hula Hoop on your own. And at your request, our service staff can take care of the creation of a Hula Hoop blank according to your wishes.
If you like to practice with the Hula Hoop Reifenn, you will find our collection Hoopomania determined very appealing. Take advantage of the huge online selection and click through the various products, because you will definitely find something that suits your training requirements corresponds with your personal hula hoop equipment. Choose a model that is right for you, because you can strike the right even as a beginner. The best way to orient yourself in our online sizes table so you choose exactly the right thing.
Get Rid of Unwanted floating rings
You need not be afraid of unpleasant marks or bruises have, for maximum comfort provides the integrated foam, so you can not get anywhere stains. You may want to get a hula hoop get with a plurality of magnets so that you stimulate the burning of fat on the body. You have unpleasant floating rings? Get rid of them quickly and dance with the hula hoop slim!
Matching beginner models
Do something against your flabby upper arms and use the arm Hoops designed for this purpose from our shop. Box slowly approached this fun sport approach and choose a model that is a light weight of about 1 kg was when you first start with the Hula Hoop. So you feel certainly not overwhelmed.