You would like to create your own Hula Hoop? Then take advantage of this blue basis
You are looking for opportunities and accessories in order to create a high quality, functional and very individual Hula Hoop yourself? Then you are exactly right in this shop! With this stable HDPE 20 mm plastic tube in blue sold by the meter, you can order a robust and lively base for your new Hula Hoop. We also offer other colors, tube thicknesses and indispensable accessory in order to customize your fitness tool according to your wishes and needs. Let yourself be inspired in our shop to equip your HDPE 20mm Hula Hoop with all the possibilities in terms of design and function.
A blue sporty wonder: HDPE 20 mm tube in blue
please note: this tube is sold be the meter
the selling price indicated is valid per meter
quality product made in Germany
formula for determining the required length: desired diameter * 3.14 = required tube length
self-made Hula Hoop: you can also here order additional accessories
Take advantage of this functional HDPE 20 mm plastic tube as a perfect basis for the design of your own Hula Hoop and make sure to get with our professional accessories all the ingredients that you need for your Hooping project. If you have questions, we are here to serve you! Use the following table as a guide.
Required plastic tube length for your desired diameter: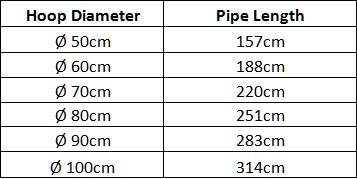 Formula calculation for the length: desired diameter x 3.14 = required pipe length
Color variations:
pearly white, blue, green, orange, pink, red, yellow, white (milky)
Tube diameter:
20mm
Material:
HDPE
Material thickness:
2 mm
Manufactured:
in Germany
We deliver the total quantity of your order in one piece. So order 10 meters, you get a piece with 10 meters.
We would like to point out that this Hoop is a not prefabricated product that is tailored individually according to your order. Therefore, a return of this product is unfortunately not possible.
---
Shipping weight:

0,13 kg

Item weight:

0,12 kg

EAN:

 4260439175823

Content:

1,00 m