Polypropylene plastic tube Ø 20 mm, sold by the meter
Shipping weight: 0,10 Kg
Product weight: 0,09 Kg
EAN: 4260439178053
Recommended retail price:
6,99 €
Save: 29%, that is 2,00 €
Plastic tube in 4 colors for individual Hula Hoop designs

Here, you are exactly right if you want to build your own Hula Hoop individually. In any case, with this high quality polypro tube, you can rely on a functional base that ensures momentum and robustness at the same time. The tangible benefit of this material is that it is up to 30% lighter than alternative materials such as HDPE. You can build a very light Hula Hoop with a diameter of only 20 millimeters. Take the chance for more visible individuality by choosing from 4 attractive colors when ordering.
Plastic tube for building Hula Hoops: the main advantages
light and stable base (up to 30% lighter than HDPE)
UV resistant tube
low weight and small tube diameter (20 mm)
excellent value for money
an individual diameter ensures perfect athletic efficiency
fulfills even the demands of experienced Hoopers
the Polypro tube is ideal for brakes and isolations
how much do I have to order? Use the table below!
ATTENTION: the tube is sold by the meter
Discover other accessories for sporty individuality

In addition to this plastic tube as basis for your own Hula Hoop, we offer you other functional accessories such as connectors or various (grip) tapes. In this respect, you may find and order in this shop with a few clicks everything you need for your new sporting challenge.
You want to know how long the PP tube must be for your desired diameter?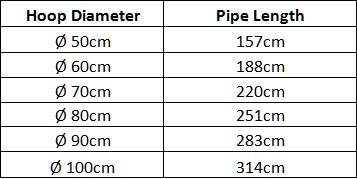 Formula for the pipe length: Wish diameter x 3.14 = required length of pipe
Matching connectors: HDPE-16-10, PP-16-10Color:
white (milky) / blue / purple / pink
Tube diameter:
20 mm
Material:
PP (polypropylene)
Material thickness:
2 mm
Made in Germany
We would like to point out that this blank is a not prefabricated product that is tailored individually according to your order. Therefore, a return of this product is unfortunately not possible.