Plastic tube made of PP (polypropylene) Ø16 mm, transparent, sold by the meter
Shipping time: 1 - 3 workdays**
Shipping weight: 0,08 Kg
Content/amount: 1 m
Product weight: 0,07 Kg
EAN: 4260439171221
Base price
€ 5,99 per 1 m
You are looking for a Hula Hoop made of polypropylene? With this plastic tube made of PP, you can build it yourself!
You have surely heard that Hula Hooping is a highly effective and flexible form of training for the whole body. With a polypropylene Hula Hoop, you define sporting efficiency in an even better dimension because PP is up to 30% lighter than a comparable tube made of HDPE. With a Hula Hoop made of polypropylene, you opt for reliable quality which is often used in the field of the construction of professional Hoops. With this tube, you set the perfect foundation for a lightweight, robust and individually designed polypropylene Hula Hoop. Since this tube made of PP is transparent, you can use it also for an individually designed LED Hula Hoop.
Plastic tube made of polypropylene: a perfect Hula Hooping basis
sold by the meter: an ideal base for an individual Hula Hoop
tube diameter: 1.6 cm
best comfort: PP is up to 30% lighter than HDPE
through the transparent design, an ideal basis for a LED Hula Hoop
polypropylene is very robust and resistant to external influences
quality product made in USA
compelling product solution for professional Hoopers
excellent price-performance ratio
With a Hula Hoop made of polypropylene, you can redefine efficiency
We highly recommend this PP plastic tube for professional and experienced Hooper who want to build a high quality product. The transparent design opens a variety of options. Please note that this tube is sold by the meter.
You want to know how long the PP tube must be for your desired diameter?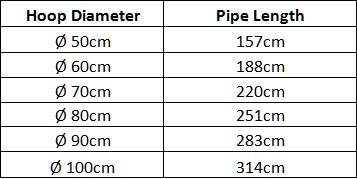 Formula for the pipe length: Wish diameter x 3.14 = required length of pipe
Color:
transparent
Tube diameter:
16 mm
Material:
 PP (Polypropylene)
Material thickness:
1,6 mm
Manufactured in 
USA
Plastic tube made of PP (polypropylene) Ø16 mm, transparent, sold by the meter
5 Stars

0

4 Stars

0

3 Stars

0

2 Stars

0

1 Star

0