Customize a polypro Hula Hoop: With this PP plastic tube, your wishes will be transparent
Professional and experienced Hula Hooper, who put a high value on efficiency and comfort, will be able to customize with this plastic tube made of PP new sporting opportunities. This affordable material sold by the meter is the perfect base to build a Hula Hoop. We deliver a high quality product which is manufactured in the USA. A Polypro Hula Hoop can be up to 30% lighter (compared to a model with HDPE), what allows a convincing comfort. Yet, this tested material is very stable and extremely robust to external influences. Since this plastic tube is transparent with a diameter of 1,9cm, you can even create a LED Hula Hoop.
Hula Hoop made of Polypro: a perfect Hula Hooping basis
PP sold by the meter = individual basis for a custom-made Hula Hoop
tube diameter: 1.9 cm
excellent comfort: Polypro is up to 30% lighter than HDPE
transparent design = perfect for a LED Hula Hoop
polypropylene is very resistant and durable against external influences
quality product (made in USA)
ingenious product solution for professional Hula Hooper
ideal for professionals: particularly suitable for brakes and isolations etc.
excellent price-performance ratio
Polypro makes every professional Hooper happy!
Use this convincing material sold by the meter in order to build a sophisticated and design conscious Polypro Hula Hoop. This tube strength is particularly suitable for demanding moves (think of brakes and isolations). You should also discover our practical accessories (tapes).
How long has this Polypro plastic tube to be for my individual Hoop: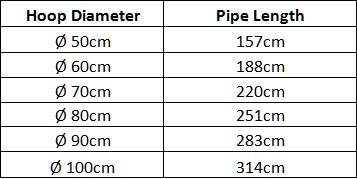 Formula for the pipe length: Wish diameter x 3.14 = required length of pipe
Color:
transparent
Tube diameter:
19 mm
Material:
 PP (Polypropylene)
Material thickness:
1,6 mm
Manufactured in USA
We would like to point out that this blank is a not prefabricated product that is tailored individually according to your order. Therefore, a return of this product is unfortunately not possible.
---
Shipping weight:

0,09 kg

Item weight:

0,08 kg