With this HDPE 20 mm tube, you can make a Hula Hoop yourself: simple, inexpensive and very individual!
You may buy in our shop a modern and highly effective Hula Hoop. If you like it more individual, you can order with this HDPE 20 mm plastic tube a perfect base for a self-designed Hula Hoop. We offer you apart from this yellow piece good with excellent quality even further thicknesses and base colors so you can realize your wishes creatively.
How to make a Hula Hoop: with this HDPE 20 mm tube you order an ideal base
quality material made in Germany
excellent stability and robustness against external influences
very affordable alternative with individual design options
you can only order complete 1 meter intervals
the sale price is valid per 1 meter
a round thing: you may also discover our wide range of accessories
Start your sporty project "homemade Hula Hoop"
What could be more effective and more individual than customizing a beautiful Hula Hoop? With this HDPE 20 mm tube, your Hula Hoop gets a viable and lively base that you can selectively enhance with our accessories such as tapes or connections. We are happy to inform you that this HDPE plastic tube is sold by the meter. Take advantage of the table below or the formula desired diameter x 3.14 in order to obtain information with regard to the necessary length.
Required plastic tube length for your desired diameter: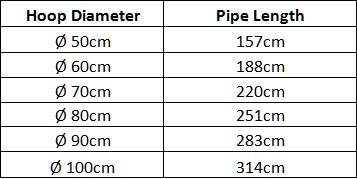 Formula calculation for the length: desired diameter x 3.14 = required pipe length
Color:
yellow
Tube diameter:
20mm
Material:
HDPE
Material thickness:
2 mm
Manufactured:
in Germany
We deliver the total quantity of your order in one piece. So order 10 meters, you get a piece with 10 meters.
We would like to point out that this Hoop is a not prefabricated product that is tailored individually according to your order. Therefore, a return of this product is unfortunately not possible.
---
Shipping weight:

0,13 kg

Item weight:

0,12 kg