How should your new Hula Hoop look like? This HDPE 20 mm plastic tube will be the perfect basis to start with
With this HDPE 20 mm tube of plastic with increased density, you purchase a low-cost basis in orange in order to make a functional and highly individual Hula Hoop yourself: To make your own Hula Hoop just as unique as possible, you will find in our shop also further tube strengths and professional accessories. With our tapes, a personal design can be realized easily and quickly.
HDPE-20 mm Hula Hoop tube: become now your own designer!
Self-made Hula Hoop? Here you will find all the necessary accessories!
Robust and very resistant tube as flexible basis
Tube with a diameter of 20 mm in orange
Resistant to external influences such as UV rays
Light weight for high comfort through the thin material thickness (2 mm)
Quality product made in Germany
You can only order whole 1-meter sections
The selling price indicated is valid per meter
Blank for the creation of an individual Hula Hoop: order here a cheap basis sold by the meter
Through its flexible and robust property, HDPE is the perfect material for an effective Hula Hoop: With this piece good, you order a very convenient base for your new Hula Hoop. Use the following table or the formula desired diameter * 3,14 = required pipe length to calculate the required amount. Be inspired by our large product range.
Required plastic tube length for your desired diameter: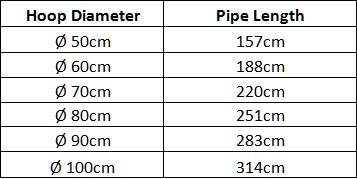 Formula calculation for the length: desired diameter x 3.14 = required pipe length
Color:
orange
Tube diameter:
20mm
Material:
HDPE
Material thickness:
2 mm
Manufactured:
in Germany
We deliver the total quantity of your order in one piece. So order 10 meters, you get a piece with 10 meters.
We would like to point out that this Hoop is a not prefabricated product that is tailored individually according to your order. Therefore, a return of this product is unfortunately not possible.
---
Shipping weight:

0,13 kg

Item weight:

0,12 kg