How to build a Hula Hoop: with this green HDPE 20 mm tube a unique workout tool can be realized
The expression HDPE 20 mm for this plastic tube (sold by the meter) stands for a very resilient, yet extremely flexible material with increased density which offers the perfect properties as basis for Hula Hooping. You do not want to buy a Hula Hoop off the shelf, but to create your very own Hula Hoop yourself? Then you may discover next to this tube as a basis our further accessories such as tapes and connections to create visual and functional uniqueness. On request, other colors and tube thicknesses can be ordered in this shop.
Customize an individual Hula Hoop: in this shop you will find everything you need!
with our accessories, your new Hula Hoop will be an eye-catcher
HDPE is a very robust and resistant material
tested quality product made in Germany
use the formula desired diameter * 3.14 = required tube length for your order
the tube is sold by the meter (the sale price is valid for 1 m)
Hula Hooping with a maximum of individuality: create your own sport equipment!

With this green HDPE 20 mm tube and our functional accessory, you can order everything in a convenient way to become a Hula Hoop designer. Let your creativity run wild!
Required plastic tube length for your desired diameter: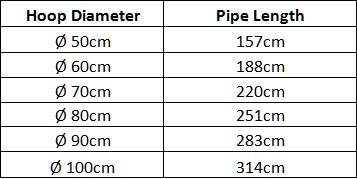 Formula calculation for the length: desired diameter x 3.14 = required pipe length
Color:
green
Tube diameter:
20mm
Material:
HDPE
Material thickness:
2 mm
Manufactured:
in Germany
We deliver the total quantity of your order in one piece. So order 10 meters, you get a piece with 10 meters.
We would like to point out that this Hoop is a not prefabricated product that is tailored individually according to your order. Therefore, a return of this product is unfortunately not possible.
---
Shipping weight:

0,13 kg

Item weight:

0,12 kg