Hula Hoop blank to be customized (milky-white HDPE with 20 mm tube thickness)
Take your new Hula Hoop just literally into your own hands: This robust and flexible HDPE tube is the perfect base for a self-made Hula Hoop which is able to fulfill the most demanding requirements. Choose from a variety of attractive materials and tube strengths to create an individually appropriate Hula Hoop. This tube convinces with a material with increased density which allows for an extreme durability. The relatively small thickness of the tube causes a pleasant wearing comfort during the workout.
Most important features at a glance:
perfect basic for an individual Hula Hoop
the price is per 1 m (minimum purchasing quantity = 1 m)
high quality tube made of HDPE
made in Germany
the high density results in excellent durability
resistant to external influences and UV rays
Before we start, we would like to point out that minimum purchasing quantity of 1 meter is required. In addition, you can only order 1 m intervals. Let yourself inspire in our shop by the possibilities of modern Hula Hoops and follow the instructions in terms of size and weight if you want to choose an appropriate blank (larger and heavier Hula Hoops are more suitable for beginners).
Required plastic pipe length for desired hoop diameter: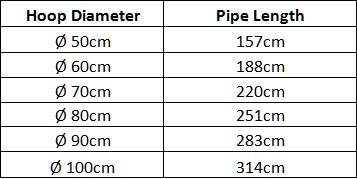 Formula for the pipe length: Wish diameter x 3.14 = required length of pipe
Color:
white (milky)
Tube diameter:
20 mm
Material:
HDPE (material with an increased density)
Material thickness:
2 mm
Manufactured in Germany
We deliver the total quantity of your order in one piece. So order 10 meters, you get a piece with 10 meters.
We would like to point out that this Hoop is a not prefabricated product that is tailored individually according to your order. Therefore, a return of this product is unfortunately not possible.
---
Shipping weight:

0,13 kg

Item weight:

0,12 kg