Blank made of HDPE (milky white with 16 mm tube thickness) as a basis for a high quality Hula Hoop
This sturdy, high quality tube made of HDPE embodies an ideal base for an individually designed Hula Hoop. In a subtle milky-white color and with a low-strength, this HDPE tube (polyethylene with increased density) turns out to be a very flexible material to ensure an effective Hoop Dance workout which improves the overall coordination. In this shop, you can also purchase high quality adhesive tapes and other professional accessories to set your own Hula Hoop individually in scene. Let yourself inspire by the possible uses and health effects here in the shop and take a new fitness project into your own hands.
Everything you need to know at a glance summarized:
HDPE tube = perfect basic for your customized Hula Hoop
ideal for Circus Hoops, children Hoops or so called Performance Hoops
price is valid per 1 m (minimum purchasing quantity =1 m)
stable and flexible tube made of HDPE
quality product made in Germany
the increased material density ensures an excellent durability
robust against external influences
UV resistant
Please note that a minimum purchasing quantity of 1 meter is provided. As interval, you can buy only full meters (1m, 2m, 3m and so on).
Required plastic pipe length for desired hoop diameter: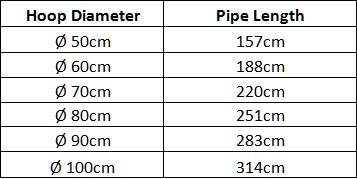 Formula for the pipe length: Wish diameter x 3.14 = required length of pipe
Color:
white (milky)
Tube diameter:
16 mm
Material:
HDPE
Material thickness:
2 mm
Manufactured in Germany
We deliver the total quantity of your order in one piece. So order 10 meters, you get a piece with 10 meters.
We would like to point out that this Hoop is a not prefabricated product that is tailored individually according to your order. Therefore, a return of this product is unfortunately not possible.
---
Shipping weight:

0,10 kg

Item weight:

0,09 kg