Plastic tube (16 mm thick, orange) made of HDPE: Buy a strong base for a powerful Hula Hoop
This flexible and highly resistant orange HDPE tube embodies with a small tube thickness of only 1.6 cm a flexible and peppy base for a self-made Hula Hoop. The color orange delivers the visual dynamics, with optional grip tapes you may enhance your Hula Hoop individually according to your wishes. The field-proven material HDPE convinces with an excellent durability and resistance.
HDPE tube (orange) with 16 mm tube thickness: What you should know 
thin HDPE tube: perfect base for a Circus Hoop, children Hoop etc.
price valid per 1 m (minimum purchasing quantity 1m)
HDPE material with increased density
stable & flexible tube, ideal for experienced users
high quality, made in Germany
UV rays resistant, robust against external influences
individual design: you can also order tapes
Discover our attractive range of colors, tube sizes and materials to create a Hula Hoop which is perfectly tailored to your sporting needs. Please understand that at least 1 meter of this tube must be bought. Furthermore, you can only buy 1 meter (100 cm) intervals.
Required plastic pipe length for desired hoop diameter: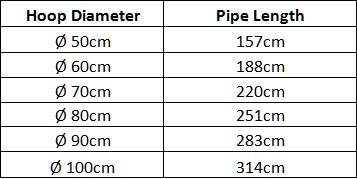 Formula for the pipe length: Wish diameter x 3.14 = required length of pipe
Color:
orange
Tube diameter:
16 mm
Material:
HDPE
Material thickness:
2 mm
Manufactured in Germany
We deliver the total quantity of your order in one piece. So order 10 meters, you get a piece with 10 meters.
We would like to point out that this Hoop is a not prefabricated product that is tailored individually according to your order. Therefore, a return of this product is unfortunately not possible.
---
Shipping weight:

0,10 kg

Item weight:

0,09 kg