Plastic pipe made of HDPE-16 mm, PINK
Shipping time: 1 - 3 workdays**
Shipping weight: 0,10 Kg
Content/amount: 1 m
Product weight: 0,09 Kg
EAN: 4260205774076
Base price
3,99 € per 1 m
Interesting bundle for you:
This tube in pink (16 mm thick) made of HDPE offers a perfect basis for fitness workouts
The extremely durable and long lasting material polyethylene is primarily distinguished by its increased density which gives an excellent stability and a peppy flexibility for the final Hula Hoop. Enjoy thanks to a small tube thickness of 16 mm and a low weight an optimal training comfort. Experience how good you will feel after regular workout sessions with your personally designed Hula Hoop. We offer you apart from this model further materials, colors and tube thicknesses to create an individual Hula Hoop blank which is perfectly adapted to your needs. You can also purchase in this online shop high quality
tapes
for an individual Hula Hoop design.
Green HDPE tube with 1.6 cm thickness: Realize an individual Hula Hoop
HDPE: an ideal material for a Circus Hoop, children Hoop etc.
extremely robust material (with increased density)
Please note: The sale price is per 1 m
minimum purchasing quantity = 1 m
quality product made in Germany
robust against external influences (UV rays, chemical processes, corrosion etc.)
Get now this durable HDPE tube in fashionable pink as a flexible and peppy base for your new Hula Hoop so that you can realize a design according to your wishes.

Required plastic pipe length for desired hoop diameter: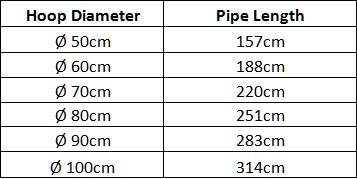 Formula for the pipe length: Wish diameter x 3.14 = required length of pipe
Color:
pink
Tube diameter:
16 mm
Material:
HDPE
Material thickness:
2 mm
Manufactured:
in Germany
We deliver the total quantity of your order in one piece. So order 10 meters, you get a piece with 10 meters.
We would like to point out that this Hoop is a not prefabricated product that is tailored individually according to your order. Therefore, a return of this product is unfortunately not possible.