Extension piece for denefhoop-leo-maxi m40
order within Express delivery in DE 30.11.2020
Shipping time: 1 - 3 workdays**
Shipping weight: 0,50 Kg
Product weight: 0,20 Kg
EAN: 4260439179975
Enlarge your athletic possibilities with this extension piece for denefhoop-leo-maxi!
Here, we would like to introduce you to a functional extension piece with which you can flexibly enjoy Hula Hooping in a new dimension according to the Vitruvian image of man. If you already own a standard
Leo denefhoop
, then you can use this handy extension piece to convert it into a denefhoop-leo. Please note that you may need to order the standard denefhoop-leo separately. Due to the overall achievable size, a new, very lively training intensity is possible. The denefhoop-leo-maxi is based on the special and world-famous formula of Leonardo Da Vinci.
How to choose the right extension piece for your denefhoop-leo-maxi
In order to choose the ideal size for your denefhoop-leo-maxi, please use the formula shown above. The maximum diameter should be twice the height to the belly button. If you also want to purchase a Leo denefhoop as a base in addition to the extension piece, then you can quickly choose a suitable diameter from the table.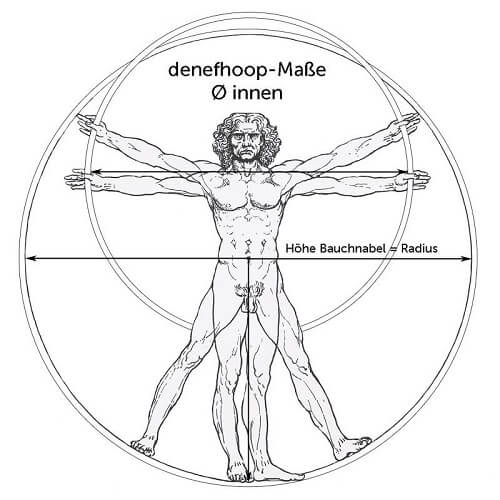 This example is helpful to order a suitable extension piece:
You own or order a denefhoop-leo with the diameter i160 cm. With the mentioned formula (height to the navel x 2) you get a value of 210 cm for the diameter. If you deduct from it the existing diameter of 160 cm, 60 cm remain. This is exactly how long should this orderable extension piece should be (it then bears the name m60/ more options can be found below in the product details).
Workout with expandable denefhoop: Your body gets maximum momentum!

With the denefhoop-leo, you will definitely enhance your fitness program in the truest sense of the word. You reach a full extension of the arms, with the heart and chest trunk completely open. You will feel this very consciously in a positive way. The lung can develop the entire volume, the body is now better supplied with oxygen.
With the extension to the denefhoop-leo-maxi, the entire scope of the Vitruvian man according to Leonardo Da Vinci comes to fruition! As you move in the hoop, you can create a perfect harmony between body, mind and soul. The navel is the center around which everything moves with a sweeping motion. Mismatched postures will be replaced by a better posture if you do regular training sessions - old thinking patterns will be transformed into new ones with fresh energy.
Discover and use completely flexible true size in Hula Hooping with a matching extension piece: the denefhoop-leo-maxi creates space for new ways!Material:
HDPE tube
Tube diameter:
Ø25mm
Length:
m40 = 126cm
Color:
white