Plastic tube made of polypropylene Ø 16 mm, sold by the meter Blue
Shipping time: 1 - 3 workdays**
Shipping weight: 0,08 Kg
Content/amount: 1 m
Product weight: 0,07 Kg
EAN: 4260439177964
Base price
4,49 € per 1 m
Recommended retail price:
5,99 €
Save: 25%, that is 1,50 €
Interesting bundle for you:
Sweeping design: Build your own Hula Hoop with this plastic tube
On hula-hoop-shop.eu, you will find a wide selection of Hula Hoops for an effective and varied workout. But maybe you would like to start a new athletic project and build your own Hula Hoop? Here, you will find the optimal basics for an individually designed Hula Hoop with a high quality polypro tube. This functional plastic tube knows how to convince with noticeable advantages because apart from its robustness, it is up to 30% lighter than other materials such as HDPE. The small diameter of only 16 millimeters contributes to a low overall weight so that you can use a sporty base for a dynamic Hula Hoop. This polypro tube is available in white, blue, purple and pink.

Product advantages in the overview:
light, yet robust base (up to 30% lighter than HDPE)
perfect basis for building a Hula Hoop
4 colors are available
this polypro tube is extremely robust against external influences
UV-resistant
very thin diameter (only 16 mm)
highest quality, even for the demands of experienced Hula Hoopers
convincing price-performance ratio
the tube is sold by the meter
Start now in a new sporting challenge...

...and create a Hula Hoop the way you want it. Apart from this tube as a functional basis, you will find other practical accessories to ensure a unique design and a noticeable functionality. Use the table below to calculate which length you need to order for your desired diameter (ATTENTION: the tube is sold by the meter).
You want to know how long the PP tube must be for your desired diameter?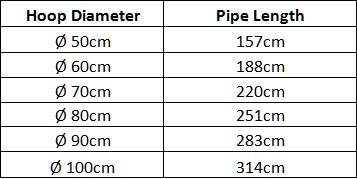 Formula for the pipe length: Wish diameter x 3.14 = required length of pipe
Matching connectors: HDPE-12-10, HDPE-12-10-SBColor:
blue
Tube diameter:
16 mm
Material:
PP (polypropylene)
Material thickness:
2 mm
Made in Germany
We would like to point out that this blank is a not prefabricated product that is tailored individually according to your order. Therefore, a return of this product is unfortunately not possible.