denefhoop - Hula Hoop according to Leonardo da Vinci i165
order within Express delivery in DE 30.11.2020
Shipping time: 1 - 3 workdays**
Shipping weight: 2,83 Kg
Product weight: 0,83 Kg
EAN: 4260439175779
Final price*, plus
shipping
bulky goods
, free delivery > 200€***
Recommended retail price:
44,83 £
Save: 20%, that is 8,97 £
Interesting bundle for you:

Discover and enjoy Hula Hooping with this denefhoop according to Leonardo da Vinci completely new
With this high quality denefhoop, we offer you a new dimension for the health-promoting sport Hula Hooping. Compared to many standard models, this Hoop (which has been designed according to Leonardo da Vinci) is considerably larger. It has been developed with view to da Vinci's Vitruvian man. Therefore, the denefhoop reaches not only up to the navel, but rather to the forehead. You will be able to experience a completely new, very intense form of Hula Hooping, which brings body, mind and soul tangibly into a moving harmony. The large diameter, which offers new possibilities of movement with relaxing effect, will be a fascinating experience. Use exceptional training places in the nature to get into a soothing phase of relaxation.



The new denefhoop: discover moving possibilities with noticeable potential of luck
With the new denefhoop, you will enjoy a wide range of sporting possibilities. You can easily integrate the large Hula Hoop into Yoga, Qigong, Pilates or meditation exercises. Due to the impressive diameter, it is also perfect for soothing stretching exercises that can relieve stress. Take a look at the product videos to get a vivid impression. Whether you are already an active Hula Hooper or you want to become one: with this innovative denefhoop, you can enjoy a new dimension. The large diameter favors a stretched posture, so that breathing will be noticeably easier. Many enthusiastic users of the denefhoop speak of a noticeable sense of happiness in this regard. Take the typical position of Leonardo da Vinci's Vitruvian man and place the denefhoop in the outstretched hands. Compared to a Hula Hoop with a smaller diameter, it will be much easier for you to let the Hoop circle around the waist. Test it now yourself!

Advantages of the denefhoop in a compact summary:
innovative Hula Hoop with extra-large diameter
the innovative design is inspired by Leonardo da Vinci
the large diameter allows a particularly intense, relaxing training pleasure
individually selectable inner diameter for a noticeable comfort
high quality product with convincing robustness
integrated Grip Tape increases the level of adhesion
ideal for Hula Hoop beginners and all those who want to experience a new dimension
use exceptional training places to balance body and mind
Choose the right size for maximum efficiency while Hula Hooping

What needed some effort before will now be very easy with the denefhoop. It has never been easier to control a Hula Hoop. You will not have to make efforts to let the Hoop circle around the waist. The specific size makes it easier to control it. Body, mind and soul come into a powerful balance. The basis for a pleasing training pleasure is the choice of the optimal size for you: Take a measuring tape with two ballpoint pens in the extended hands and measure the distance as shown in the picture:

Now you have already found the perfect measure for your new denefhoop. Lean against a wall in order to be able to determine the measure as precisely as possible.
The following table shows you which denefhoop measure you should order: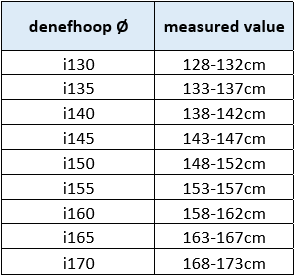 Whether for Yoga, Qigong, Pilates or Hula Hooping 2.0: This extraordinary denefhoop (inspired by Leonardo da Vinci) will be a "moving" enrichment with the goal of making you fitter and happier.
Hoop Ø:
165 cm (inside size)
Tube Ø:
25 mm
Weight:
 827 g
Material:
HDPE, Grip Tape
We would like to point out that this Hoop is a not prefabricated product that is tailored individually according to your order. Therefore, a return of this product is unfortunately not possible.